This newsletter reports the latest developments of the project carried out up to the summer of 2018. TO-SYN-FUEL will demonstrate a new, game-changing, integrated process combining the highly novel thermo-catalytic reforming (TCR®), with hydrogen separation through pressure swing adsorption (PSA), and hydrodeoxygenation (HDO). This will produce a fully equivalent gasoline and diesel substitute (compliant with EN228 and EN590 European standards) and green hydrogen for use in transport.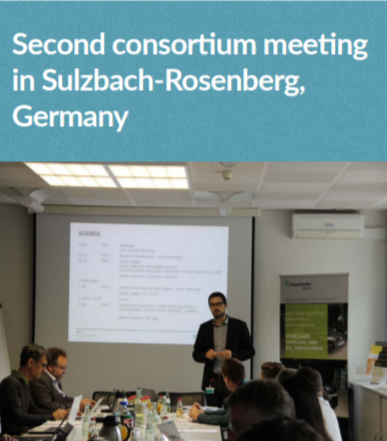 The consortium meeting was hosted by the project coordinator Fraunhofer UMSICHT at its premises in Sulzbach-Rosenberg, Germany, on the 25th of June 2018. Discussions took place regarding the progress of activities relating to the research project TO-SYN-FUEL which will operate and demonstrate the production of Synthetic Fuels and Green Hydrogen from waste biomass.
During the meeting, some samples of TCR®-Oil from sewage sludge and upgraded TCR®-Oil were shown and their characteristics and properties were explained to the project partners.
At the end of the meeting, a guided tour to the TCR®300 pilot plant was organised for the project partners. The pilot plant is within the commissioning phase at the moment and will be used to gain longterm experience from the process. These results will be part of the
demonstrators design for the integration of TCR® with PSA (pressure swing adsorption) and HDO (hydrodeoxygenation) technologies for the TO-SYN-FUEL project.